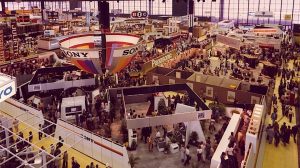 If you have any doubts, then you haven't been to the Consumer Electronics Show in Las Vegas. Hundreds of displays covering the size of five football fields, showcasing electronic and innovative advancements in technology leaving nothing to the imagination. Once you think you've seen it all – there's more, and to the delight of thousands, what once was relegated to science fiction is now a working reality.
The CES is massive covering 2.4 million square feet and hosting over 3,500 vendors. The global Tradeshow features big and small electronic and technological developments which address all factions of domestic and industrial applications. From high-tech emergency tow service Kansas City MO to drones that can carry passengers to the supermarket and back, there is something to astound everyone.
Two very popular themes this year are drones and virtual reality devices. To single out just two areas of extreme interest leaves a gap the size of the Grand Canyon filled with medical, home and office, fashion, automotive, travel, security, entertainment and robotic personal assistants. As I said, there's something for everyone, so let's just talk about one of the two most eye-opening offers to date.

Drones
We were all enamored by the flying mechanical critters when we saw how fun, versatile and practical they could be. Viewing landscapes that were too risky to get close to – like an active volcano or inside a wave the size of a 50-story building brought us images that we could only be privy to at great risk.
Photographers love the idea of capturing panoramic scenes that previously required renting an expensive helicopter and hoping for cooperative flying weather. The real estate market soon began selling properties by giving a bird's eye view to potential buyers that allowed them to get the full picture of the exterior surroundings of a property. Drones, of course, play a huge role in military strategy and tactical applications in disaster situations.
Now a passenger drone, aka flying car has been formerly introduced to the public. After 15 years in development by an Israeli firm Urban Aeronautics foresees their passenger drone market ready by as early as 2020.
Dubbed the Cormorant, it successfully completed an automated solo flight over land just 2 months ago, in November 2016. Weighing in at 1.5 tons and capable of carrying 500 kilograms – 1000 pounds, it can reach speeds of 115 mph. The Cormorant shows promise, but at $14 million, still has a long way to go before the average Joe has one in the garage.
However, disaster relief and military evacuations, are very real imminent applications for this dark green drone. It differs from what we see as the typical drone look. Instead of external helicopter type propellers, it utilizes internal rotors that allow it a more compact entry and exit level profile. The internal propellers allow the Cormorant to maneuver between buildings and under power lines since there is never any worry about blade contact.
The applications for this device are endless from disaster relief, dirty, chemical bomb evacuation, to simple transportation to fun. What our future holds for us in the present is mind-blowing. Turn the clock back 25 years and look what we now take for granted. Do you suppose it will be the same for our children and grandchildren?
Leave a comment below letting us know your thoughts about the rapid advancements of technology we are living through today.